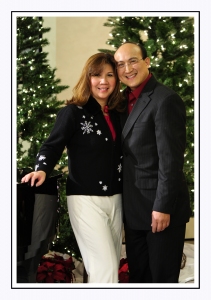 Pastor Melvin & Juliet Santos
Melvin Santos, DMin., MDiv., Pastor, Nashville First Seventh-day Adventist Church –
Pastor Santos comes to us from Michigan after pastoring for 21 years, with his last church-South Flint Church in Burton, Michigan. He graduated from Pacific Union College with a B.A. in Theology and a minor in Biblical Languages and received his Masters of Divinity from Andrews Theological Seminary.
He served as chaplain for the US Army and later with the Army National Guard Reserves for several years.
Pastor Santos is committed to establishing Discipleship driven churches and maximizing member's ministry potential and effectiveness as lay ministers.
He is passionate about soul-winning and evangelism and has conducted numerous evangelistic meetings in US and other countries such as the Philippines and India. He has worked with seminarians in conducting several field school of evangelism.
In addition to his pastoral duties he served as the chaplain for the Burton Police and Fire departments and chairman of the Burton Area Ministerial Association.
Well known for his involvement and leadership in the communities in which he serves resulting in the Key to the City of Burton Award given by Mayor Charles Smiley in 2008. He is an advocate for health promotion, prevention and disease reversal. He provides general advocacy for people in all occupations while offering emotional and spiritual support and healing.
Pastor Santos received his Doctor of Ministry degree from Andrews University Theological Seminary in Berrien Springs, Michigan.