The Nashville First Seventh-day Adventist Church, considered the South's oldest Adventist church, was established in Nashville over 100 years ago. The first church building was purchased by a small company of believers in 1905 in East Nashville on the corner of Fifth and Fatherland Streets (later demolished in 1969). Due to growth and the age of the building, a lot was purchased on the corner of Natchez Trace and Blair Blvd. and the ground was broken for the current sanctuary on May 18th 1952. The congregation has been meeting together in this building ever since! There have been a few re-decorating changes to keep up with the times, but the basic structure of the building remains the same.

It is our desire to be a mission for Jesus in a city that is growing and ever-changing as the year's pass. We encourage you to read more about Seventh-day Adventists at the links below.
About Seventh-day Adventists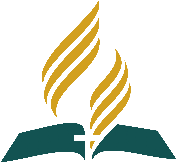 Adventists believe a Trinity of three persons--the Father, the Son, and the Holy Spirit--make up one God. They made salvation possible when Jesus, the Son, came to earth as a baby in Bethlehem and lived a sinless life in accordance with the Father's will. When Jesus was crucified for the sins of the people of the world and arose from the dead on the third day, victory was won for everyone.
When He returned to heaven following the resurrection, Jesus left the Holy Spirit to serve as our Comforter and Counselor. He promised to return to earth a second time to complete His plan of salvation and take His people to heaven. Adventists are among the believers who look forward to that day.
Adventists believe that God is concerned with the quality of human life and that everything--the way we live, eat, speak, think, treat each other, and care for the world around us--is a part of His plan. Our families, our children, our jobs, our talents, our money, and our time are all important to Him.