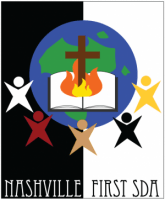 Music Ministries
Nashville First Seventh-day Adventist Church has an active Nashville First Church Choir which practices immediately following the church service on Sabbaths. If you like to "make a joyful noise unto the Lord", please join us most Sabbaths after service. We meet by the piano in the sanctuary and spend about 45 minutes to an hour rehearsing and having a wonderful time. We've just obtained copies of Handel's "Messiah" and hope to learn the entire oratorio to be performed sometime next year. Again, join us! We think you'll be glad you did! We always welcome new members. 
Anyone wishing to join may contact Pat Ward for more information at divapat [AT] yahoo [DOT] com.
We have a Primary Bell Choir for children ages 8-10 and an Earliteen/Youth Bell Choir for ages 11 and up. The Bell Choirs alternate practice on Sabbath mornings from 9:00 am - 9:30 am. The practice schedule is in the bulletin. You do not have to be able to read music to play in the bell choirs.
The Nashville First Orchestra is composed of wind and string instruments. All instrumentalists are welcome to join. 
Please contact Marjie Johns for orchestra information at johnsmarji [AT] aol [DOT] com.