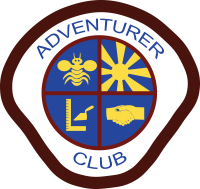 The Adventurer Club is also a worldwide organization sponsored by the Seventh-day
Adventist church for any youth in grades 1 to 4. It is for kids that count and parents that care! In the world of Adventuring, children can:
Learn Christian values experience the joy of doing things well
Express their love for Jesus naturally
Learn good sportsmanship and people skills
Discover their God-given abilities and use them to benefit themselves and others
Registration cost is $45 per kid.